News
This Will now be my BLOG PAGE for any news from me
Drawing UPDATE
12/04/2021
Hopefully avid followers of my site may by now have noticed that I have recently added two new drawings to my DRAWINGS page. However, these I feel are extra special as I miraculously found a basic digital drawing program on a new gadget, that I did not know I had. Having trained in computers but not having access after training has been a waste, as I didn't realise at the time that computers DO NOT come with ALL programs as standard! And I was never actually given any text/ paperwork on how to do the drawing/animation stuff while training I was simply following instructions that gave an end result which was then given back to teacher with nothing to revise from or take home to keep. So I only have the skills that I used and can remember all these years on.
Anyway, I digress. Hope you like my digitally drawn Shere Khan the Tiger, and Cowslip the Rabbit 'Lamenting at the Moon' something we never saw him do in the film Watership Down.
'That's All Folks!'
The Rocking Horse Book
21/03/2021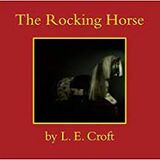 If you have read my Children's book page you will by now be aware that my children's book has a lot more to it than first meets the eye. (A bit like myself-HA) It does have a dual personality in that it is also an adult book of clues to many other things- a game, as much as a book.
However, if any of you remember me tweeting at the time and as it was my first ever book I cannot say if ALL authors feel the same, but even when I sat down to write and was pretty sure what I thought the next part would be, it was literally like somebody was standing over my right shoulder saying 'write this instead'.
Today I am here to announce very unexpectedly that this book possibly has a THIRD /meaning. I have seen the Da Vinci Code film many times but it is only in my readings of another book and others before that, that I am now very aware of a THIRD meaning which has left me trying to search through my children's book in search of the answers to one of the biggest mysteries of all time. Having already realised there is much within the book's pages but not wishing to give away any spoilers, (besides, even though it is my book it has taken me since I first wrote it to this day to realise myself just what this book contains)
Well you know what they say only the one that is truly worthy can .......................Good Luck Everybody.
I suggest you may like to look again at 'The Rocking Horse Book' and to those that have never yet considered making a film of my book, as it seems easier to do yet another remake of something we all already know , I say 'May be you need everything spelled out for you to see the signs ,'WHAT.... ARE... YOU ...WAITING... FOR?'
FILMING
19/02/2021
I have come up with the idea of letting my house be used for filming, even if it is just the grounds. As I am needing to do work on the house and need the funds. So if you are in need of a Filming Location please get in touch. I have set up a fundraising page but feel I cannot approach all the people that have donated in the past to my charity fundraisers as I feel ashamed at having to ask for help for myself but I find myself in fear of losing the roof over my head for me and my animals. I haven't found the right roofers for the job as they do not come back, which leaves me in a desperate situation. I feel I have done all I could have to prevent this but am now out of funds.If you can help with any materials or anything at all or know of a good roofing firm or would like to donate here is my page https://www.justgiving.com/crowdfunding/nicole-bourcier-roof?utm_term=3Qnb7xMDg
Gardener/Handyperson Wanted
19/02/2021
I am also looking for a Gardener/Handyperson Male or Female for two hours work x five days a week . If interested please use contact form
Christmas 2020
25/12/2020
Never short of ideas, my only problem is keeping up with them. This year I suddenly had an idea to do a part reworking of a classic hit. I say part because had I changed all the lyrics I could never have learnt them in the 24 hours I had before Christmas Day to make my new Christmas video in the guise of my Tribute Band -Sweet Deja-Vu. See it on my Tribute Band page.
I have also written the lyrics out for REINDEER BLITZ
I have also decided to use my YouTube Channel as a T.V. (Tube Video) Show so Any ideas for anything I come up with, will be featured on there . I do hope you all like my New Christmas Reworking of this classic hit, and a Merry Christmas One and All! I leave you with my Christmas Reindeer Blitz Boots as because I was both in front and behind the camera, I was unaware they were not in view. Thanks to the lady in my local charity shop for these- as I think had they been her size and not mine, I wouldn't have got them. FATE Huh?! HA
Elvis Lives
30/10/2020
Well, Elvis The Dog certainly does. In my new DRAWING that is very special (see MY DRAWINGS page) as this is available to buy as a Signed and Numbered Print. It also comes with a printed list of all the songs featured and where to find them in the print. Especially for the Avid Elvis Fans there is a 'Red Herring' in this drawing so that you can tease any 'know it all' types when you are proudly showing off this special Art Work, designed and drawn by your favourite creative Nicole Bourcier .
And there is more.... This item comes at a 'Pay what you want to' price. An offer I may never be able to repeat depending on the offers. Just contact me via contact form page to purchase.
Please Note if you live outside UK please allow an amount that will include postage costs. Thank You
Work Wanted
08/10/2020
Yes despite all my various pages on this my official website I like many others in these difficult times that should be shielding anyway, really need work, anything considered as I have animals that need feeding and I genuinely seem useless in any idea I have to help myself. Please use contact form page if you seriously can offer any work. Thank You
My Drawings
27/09/2020
I am starting a page for My Drawings. It was only when somebody said to me 'I didn't know you could draw' that I took a good look at my website and realised I had not added a page specifically for my drawings. You will find they probably will be all cartoon/animation type drawings as that is what inspires me to draw. After all, cartoons/animations are the one thing that cannot be photographed as they have to be drawn first, and I have always been mesmerized by the colours, so they have always been my drawing passion. I generally just draw in pen, which means I have to be pretty sure where the pen is going as it is impossible to erase any mistakes. If it is cartoon or animation I would probably have a go at drawing it, obviously I love Disney and The Snowman but I have also drawn tribute drawings of Album covers like Foxtrot by Genesis and The Wall by Pink Floyd ..
I am working on a NEW set of greetings cards if there is an interest.
Ex-Family Members Update
16/09/2020
Sadly my previous message did not work even though I know it was viewed which leads me to say 'I rest my case'. I am seeking legal advice.
It is all Phooey!
28/08/2020
Seriously though, for the first time ever you can now see me drawing in real time a cartoon character, and hear my thoughts as I draw away. Hope you enjoy the video and like and subscribe as they all say on you tube.
My charity Fundraiser
08/08/2020
Thank You to All that had contributed. I have sadly decided to withdraw from this latest fundraiser
NEW Tribute Band Page
28/07/2020
So Funny Funny, to think that my charity fundraising idea of cutting my hair, then to make it more interesting to me impersonating my favourite singer, then now it has gone on to be an idea of forming a NEW Tribute Band to The Sweet.
So see my new page on this website for details. Calling ALL EXCEPTIONAL MUSICIANS ONLY. Use Contact Form page.
Extra, Read All About It
17/07/2020
BIG NEWS- I have never revealed this news here before, but there is some exciting news about my Children's Book 'The Rocking Horse' If you click on my Children's Book Page, you can find out more. Adults-This is for you
To EX- FAMILY MEMBERS
08/05/2020
Please DO NOT EVER CONTACT ME IN ANY FORM EVER AGAIN. Get on with your own lives and leave me alone as that is all I have ever wanted (as you well know but won't accept as you prefer to bully!) I will not be constantly persecuted and bullied by mail, email ,phone EVEN WHEN I WAS IN HOSPITAL,. YOU ARE NOT MY NEXT OF KIN AND AS FAR AS YOUR BEHAVIOUR HAS BEEN NEVER HAVE BEEN AND I LEAVE NOTHING TO YOU IN MY WILL - so desist! I have asked Mother to tell you all so many times but to no avail so I am having to resort to the only way I can be sure you will get the message.. It is sick and not in a good way
Something's Cooking!
14/04/2020
Because of the #Lockdown more and more people are finding they either do not want to go to the shops for that loaf of Bread or can't find any there when they do. So what better time I thought to do a few videos to show anybody 'how to make their own'. But because I was in the process of trying to move but then the virus hit us all I am packed up meaning tools for the video are scarce and not only that ingredients are scarce too as I am having problems sourcing any food for me HA.
Even so, my videos go to show how easy it is to make Bread and a little surprise treat too!
So laugh with me along the way and enjoy watching my first ever cooking videos.
Cookbook Update
10/02/2020
When I wrote my cookbook I did not allow for one thing - As people we evolve all the time as we learn and grow as people. So due to this fact I am here to inform you all that some recipes in my cookbook I can no longer promote due to articles I have read I found out that Mushrooms - even if identical in shape and colour are just like us and are all unique.
This was indeed food for thought as we may well be able to say that of all our food but given the fact that these are also a type of fungus, I felt wary about promoting their use in any way.
I will be adding some new recipes as additional insert sheets in my cookbook for any new orders.
I am not saying there is or even could be anything wrong with eating edible mushrooms but as I and no-one could be sure, I want to look after people's health as much as possible as this is the reason I wrote a cookbook, so they are now to be omitted
My Calendars 2019 and Postcard Set
14/11/2018
Big news is that my 2019 Calendars are now available to order at a cost of £9.99 inc of p&p each UK only if outside UK contact me for postage price at cost.. To order simply fill in the contact form . Postcard Sets comprising of five different photos in one set, are available now at a cost of £5 per set inc p+p
Calendar 2019 , Postcards Set
12/10/2018
Exciting news! As I will soon have available for the first time ever, a Wall Calendar for 2019, AND again for the first time ever a Postcard Set. More details coming shortly. I have been working very hard to choose photographs I would personally like so I do hope you will like my choices. It has been much more time consuming than I anticipated but then everything I do always is. I will initially be doing some #Giveaways on twitter, so do follow me if you don't already. I will update you all as soon as I have the items in my hands to show you all and I for one cannot wait to see them.
Calendars and Postcards for 2019
09/05/2018
Just to say I am going to try to get some of my photographs available for the first time ever as Calendars and Postcards , in time for 2019.. They will be available to pre-order from my website here soon. So watch this space and keep your fingers crossed...... .
Pottery Ideas and Potter-y News
04/03/2018
I hope you all may have noticed that I have started a Pottery Gallery to show my work. Although far away right now I have just added two new dishes and covers, Ideal for adding Christmas Sparkle to any table. Not just pretty though, useful to serve a Christmas Pudding or Christmas Cake or hiding Christmas treats. Anybody interested in ordering/stocking any of my Pottery items please get in touch by using my contact page. Thank You.
I really hope I may have some news soon of some pottery items I am longing to show you all, but as I am awaiting approval (story of my life!) I will have to keep you all in suspense, (and myself) until word reaches me and I hope it will be 'yes' rather than 'no'. Especially as I have many ideas on this front, and it would be an awful shame if others are not able to delight in my inspirational pieces. They really will bring a smile to any face beside the fact they are useful.
Going to Pot
28/10/2017
As you know I have been hand-making my little figures from clay for sometime which can be viewed on my Artworks page. Now I am here to announce a new Gallery page on my website : Pottery.
This is where I shall show you photos of my items I make and design for the Home using my ideas inspiration and art to create I hope a vibrant and innovative new concept in home items for the kitchen or whatever Idea may come to me. Do check out my Pottery page and I hope you will like this new journey of items to look forward to.
Who knows where it may lead
Latest News Update
07/09/2017
It has been awhile since I have updated my website but I have not been idle, I have been making and doing allsorts. I am really self taught when it comes to drawing as I don't really count school. I had never been taught how to paint at all. well I cannot say that anymore as I have had some lessons. I wish I had been brave enough to paint years ago now and not stuck to only pencils and felt-tip pens, anyway I will be adding any paintings I have. here on my artworks page, in case anybody is actually interested in my art paintings. My favourite so far is an oil painting I have done of a character from one of my favourite films, those of you that follow me on twitter will probably know what film that is. Seeing the painting may give you a hint or not. Also my Swan painting I like as I had always wanted to try painting one
Also I have been to a pottery class to check that I am making my self taught figures correctly and it seems I was, thankfully. As I don't fancy trying to remake the 35 or so I have made to date, had I got it wrong.
In my other news I have made some wood paneling, as I had always wanted some but could not find nor afford the real thing. If anybody is interested in my paneling for a patent. who knows! I am wasted ha.My latest twitter avatar shows paneling in background
I was pleasantly surprised to find Monty Roberts is following me on twitter, may be he liked my horse videos on my youtube channel.
Lastly. the funny thing is sometimes it takes trying new things to re-establish where your passion lies and mine is still more than ever with photography despite the painting and pottery.
I miss my music portrait photography as not really having the opportunity lately, but I am trying to get a little time slowly to get out my camera again
Keep you posted!
Christmas 2016 NEWS
21/01/2017
Just to say some of you may have noticed I lost my dear horse last year and so had found a new one but as it was in the U.S.A couldn't bring it to the U.K. Having contacted some charities they had nothing needing a home, I was at a loss. Until I happened to see an advert for a big driving horse saying he had bad conformation and was as cheap a price as I have ever seen at £200 to good home. I went to see him worried a more unscrupulous person may want him at that price. 'Oh No.' on chatting with owner it appeared he was living out and doing his own thing since that stopped racing it!!! The horse was beautiful much with the looks of the 'Zorro Tornado' horse or the' Lloyds bank' type. He looked as if he needed a good dose of routine and attention as he didn't want to leave my side prompting the owner to say to me 'you two seem to have bonded already'. ' I will take him' I said and after adding up various costs for needed vaccinations, worm medication and feet trimming, I phoned up to say I may need to spend the same again to get him up to date. Well this has never ever happened to me! On the 23rd of December 2016 they bought him to me and said here is your Christmas gift box'. So I can safely say it was my best Christmas Present ever. I am not sure he will ever be ride-able and I have tried (yee-ha) but he is already a new best friend. I went with the old adage 'Never look a Gift-horse in the mouth'
I would just like to say a huge 'Thank You' to the total strangers to me that have entrusted me to give their horse a home
hope you like the story Here he is
;
My Website Update
23/07/2015
Hopefully some of you will have noticed changes to my website, also you will notice there is not quite so much to see, as I felt most of us do not have time to look at too much on one website. I hope however to change the content more often. I have nearly finished the new look, so I hope you like it! I have lots more Artwork, and Photographs than is shown here, but it really is just a platform to give an idea of what I have done or can do. Please keep checking back anytime. Nicole
My Website
10/07/2015
My Website is having a makeover, so I ask for your patience as changes take place, Thank You.
BREAD
10/07/2015
Greetings! I recently made a quick video of a scene from the UK sitcom Bread,as my dog seems to have taken on the role of Mongy Boswell (the dog from said series) You can view it and hope you like it, just a bit of fun. If you want to stay up to date with any other videos I may post subscribe to my you tube channel, Thanks and Happy Viewing
My Super-Fast Christmas Pudding Recipe
03/01/2015
My Super-Fast Christmas Pudding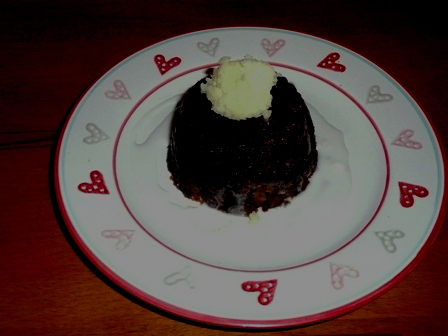 preparation time:
15 minutes
Cooking time:
45 seconds
You will need:
A microwave oven
An individual size microwave-proof pudding mould
cling-film to cover
Ingredients
2oz Dried Sultanas
2oz Dried Mixed Fruit
1level dessertspoon of cut mixed peel
1 dessertspoon of Black Treacle
1 slice of thick bread (crusts removed)
1 teaspoon of Sherry
1 dessertspoon of Dark Rum
1 teaspoon of Brandy
Pure white vegetable lard for greasing (most important)
Method
1) Grease your pudding mould fairly thickly with the vegetable lard. (in other words so that you can see a coating)
2) Measure-out dried Sultanas, Fruit and Mixed peel and place in a bowl.
3) Take your piece of bread (crusts removed) and break the slice into small pieces and place in the bowl with the fruit.
4) Add the treacle and the Sherry, Rum and Brandy, and mix really well until it looks like (picture 1) and the treacle has covered the bread and fruit, giving it the traditional Christmas pudding colour. picture 1
5) Now mix again with your hands until it forms a stiff-ball. You can now place it into your mould.
6) Press the pudding mix down gently but firmly into your mould with the back of a large spoon.
7) Cover mould top with cling-film and pierce film a few times. (see picture2)
8) Cook in microwave on full power for 45 seconds based on a 750w microwave.
9) Allow to stand for one minute as per microwave instructions, then tap sides of mould before turning-out onto a serving plate. (see Picture3 which shows serving suggestion of non-dairy cream and homemade brandy butter )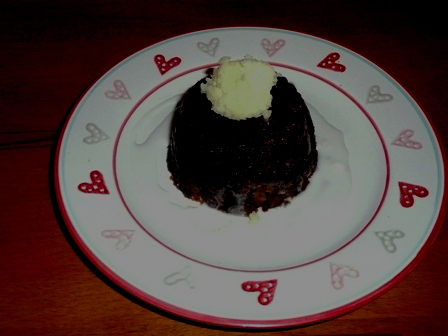 I hope you enjoy this recipe which I hope to have available in my next cookbook, but don't let that stop you getting my first cookbook which is available from me here. Also, if you have tried and like this recipe, please make a comment on my guestbook. Thank You
Children's Book News
28/10/2013
I have the absolutely super news that The Kent and East Sussex Railway (K&ESR)that features in my children's book are now involved! The Rocking Horse book along with a choice of a free poster is now available at their Gift Shop in Tenterden. The Steam Railway and the Station in Northiam plays an integral part in the story. So you can see the scenes and places recreated in my book and even ride on the steam trains. I did, and had a smashing time! There is so much to see!